We are looking to buy and sell beer cans and vintage brewery advertising. Single items or entire collections large or small are what we are interested in. We are collectors looking for items to add to our shelves as well as items to put in our trade stock. With over 20 years of collecting and collection buying experience, you can trust that we will treat you right. My motto has always been "A deal is not a GOOD deal, unless both parties are happy". Not just words, we here at Beercantiques.com live by this motto. So contact us now for a free consultation on your breweriana collectibles!
Email: jeff@beercantiques.com
NOTE:
We appreciate all of your inquiries, but we do not purchase or appraise the
following items since they are not in our collecting interests.
Aluminum cans

-

nearly 100% of all aluminum beer cans are only worth their weight in aluminum. This includes Billy Beer, MASH, J.R. Ewing & World's Fair, all set cans (e.g. Bicentennial, Sterling Kentucky Derby) so please recycle these.

Crimped steel cans.

- See pics below. The crimped cans were made in the plentiful can era of the 70's. Note the "curved in" area at the top and bottom of the cans.

Aluminum or Crimped Steel Foreign cans.
Beer Bottles

Inquiries about Straight Steel Pull Tabs, Cone Top, and Flat Top cans are welcome and encouraged, along with any older pre-1960 brewery advertising items such as signs, tap knobs, lights, neons, trays and the like. Please call if you have questions concerning these areas. We are strong buyers of these types of items and are interested in hearing from you.

Straight Steel Crimped Steel (Recycle)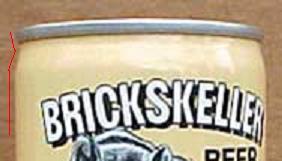 Jeff Cell: (330) 284-1959
Location: Massillon, OH
In your e-mail or phone message please state :
1. Your Name
2. Your Phone Number or E-mail Address
3. USBC # of the can(s) of interest (if it is a can)
4. Label Name
5. Price ($)
6. Address (if purchasing)
Note: There will be a minimum $5.00 shipping & handling fee for each order unless other otherwise negotiated.
© Copyright 2018 Beercantiques.com. All Rights Reserved